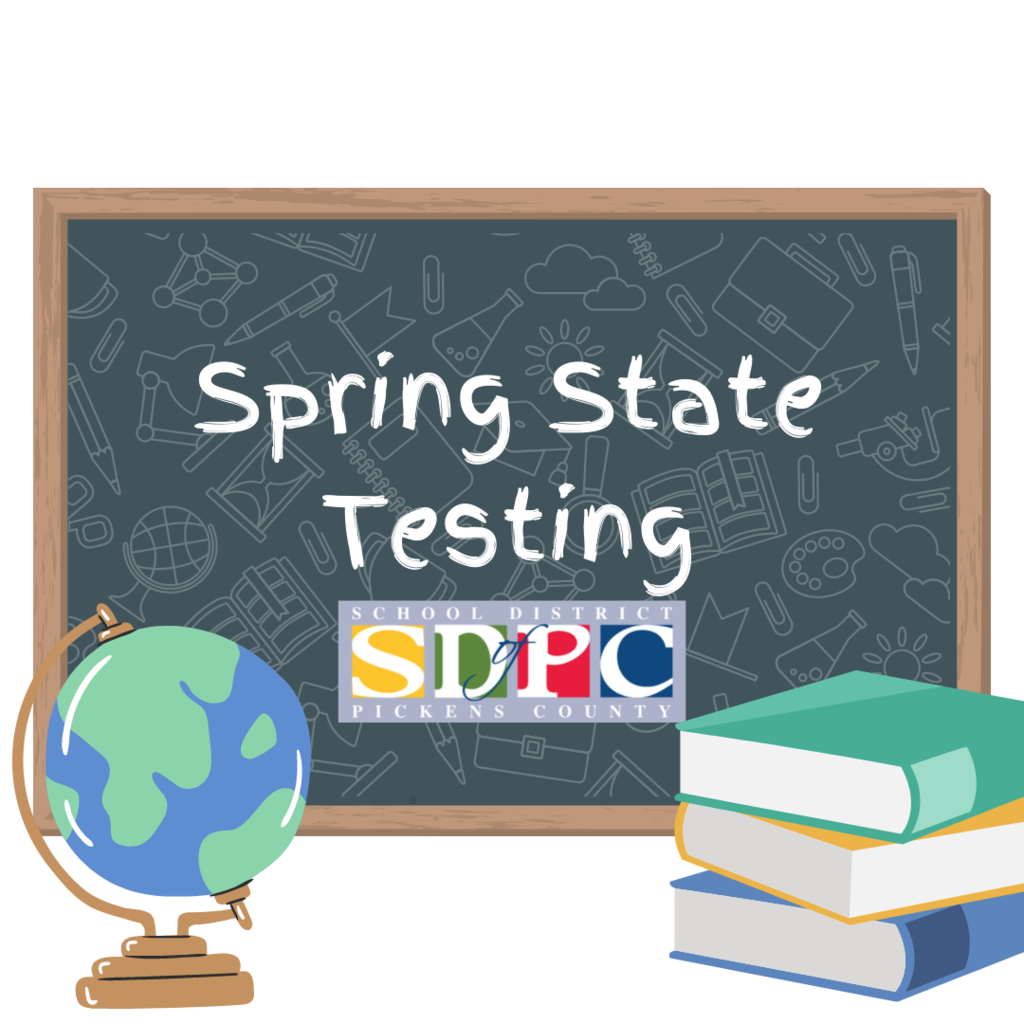 National School Counseling Week is Feb. 7-11, and we're happy to join our schools in celebrating. Every day, school counselors make a difference for students! Join us in thanking them for all they do! #SDPCBetterTogether #NSCW22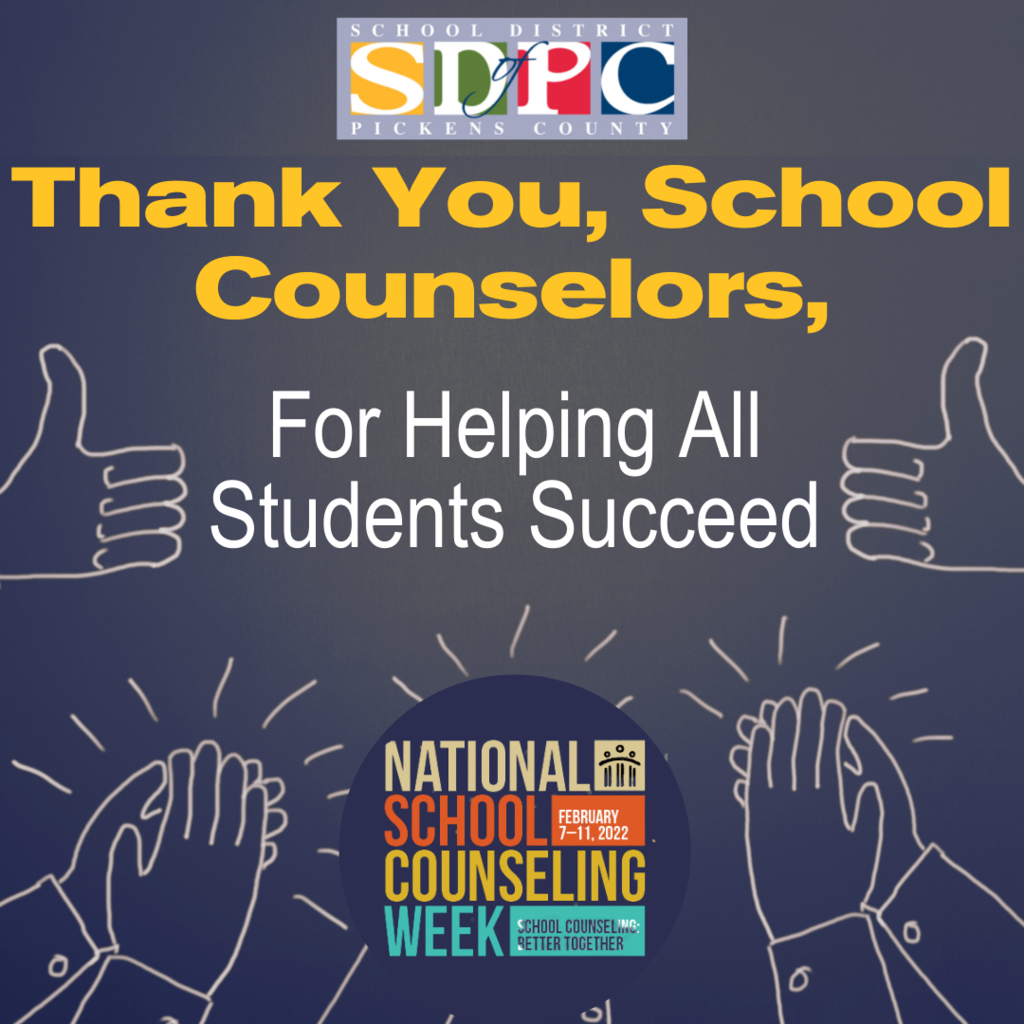 COLLEGE BOARD OPPORTUNITY SCHOLARSHIP- BIGFUTURE The College Board Opportunity Scholarships are now named BigFuture Scholarships. Through the program, students are eligible to compete for scholarships by completing critical college planning actions during certain windows in their junior and senior years. As of January 2022, 104 scholarship awards totaling $52,000 have been awarded to South Carolina students from the Class of 2022. Final awards for the Class of 2022 will be announced in March. The program is now open for students in the Class of 2023 with the first awards announced February 2022. Learn more at bigfuturescholarships.org.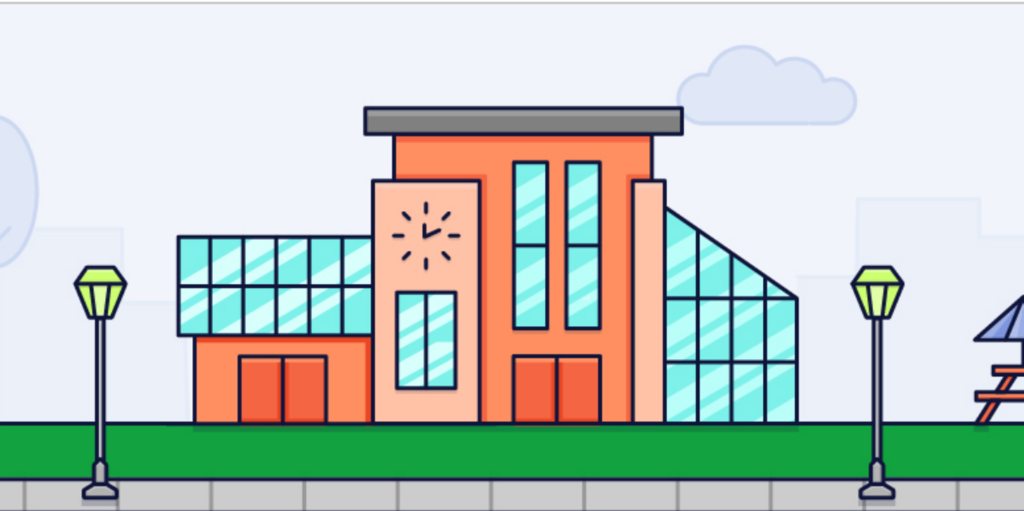 🚨Reminder🚨: There will be no school: Friday, February 4, 2022 Friday, February 18, 2022 Monday, February 21, 2022 These days are planned breaks on the 2021-2022 calendar. (Note: The free COVID-19 testing center for SDPC will be closed on these dates)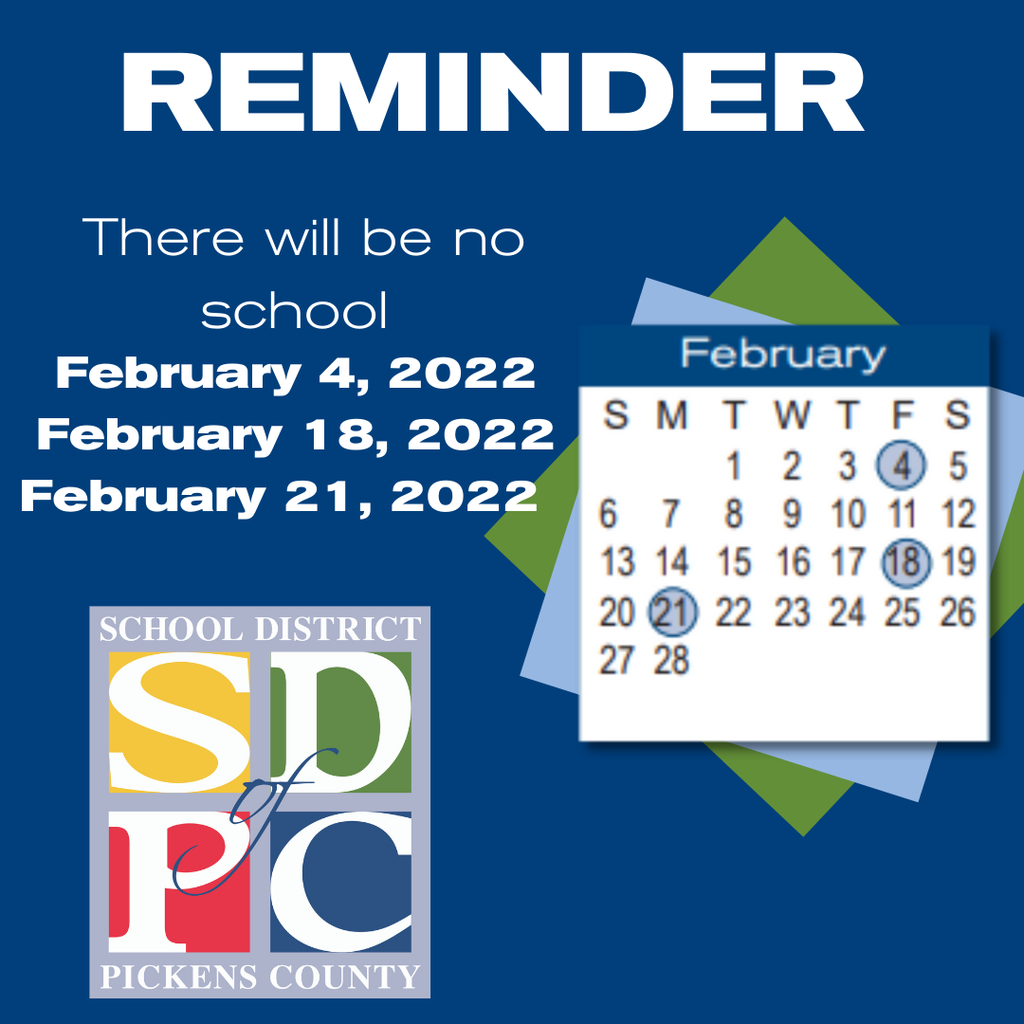 The SC Governor's School for Science and Mathematics Accelerate program in pre-engineering is wrapping up application season. They will be having one last zoom meeting with interested students on Thursday, January 27, at 5:30 PM. Interested 8th and 9th graders may contact their math teachers or school counselors for the Zoom link. It may also be posted in your Schoology for your math course. Accelerate Application link:
https://scgssm.force.com/apply/TX_SiteLogin?startURL=%2Fapply%2FTargetX_Portal__PB


The School District of Pickens County (SDPC) will open on a two-hour delay on Thursday, January 20, 2022, due to the continued danger of ice on shaded areas and on secondary roads. The two-hour delay gives additional time for ice to melt off the roads and will improve visibility for drivers. -- Morning 3K and 4K classes are canceled. PM classes operate on a normal schedule. -- No Buses on Icy Roads -- High school students (including Career Center) should check their Schoology messages for adjusted class times and bell schedules.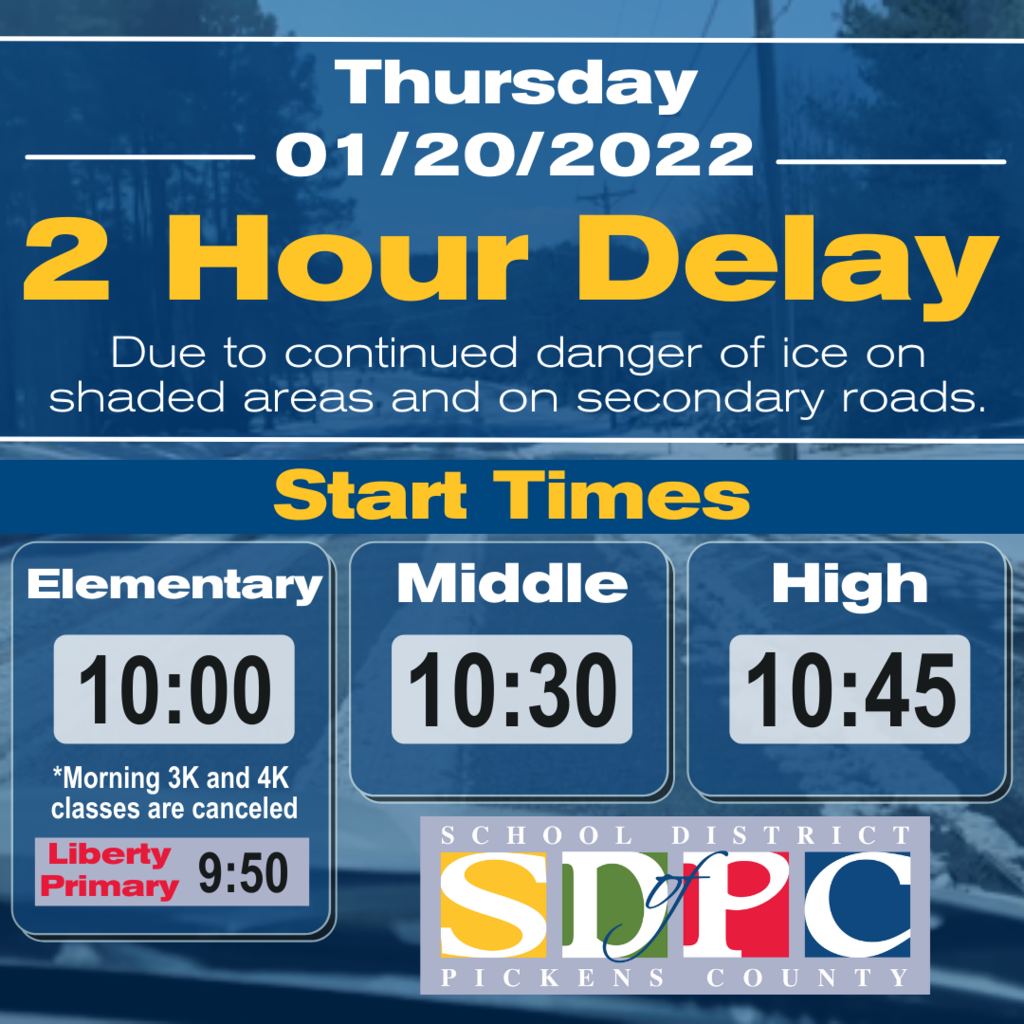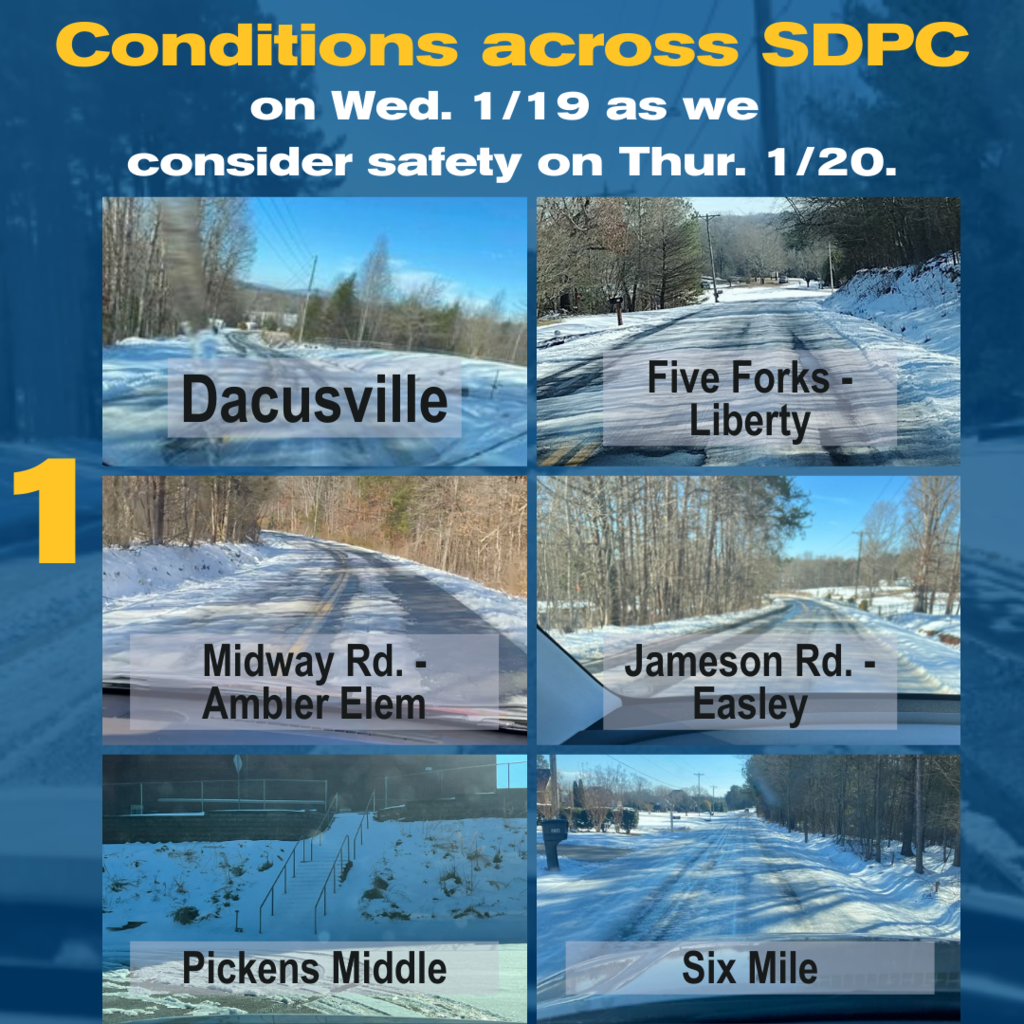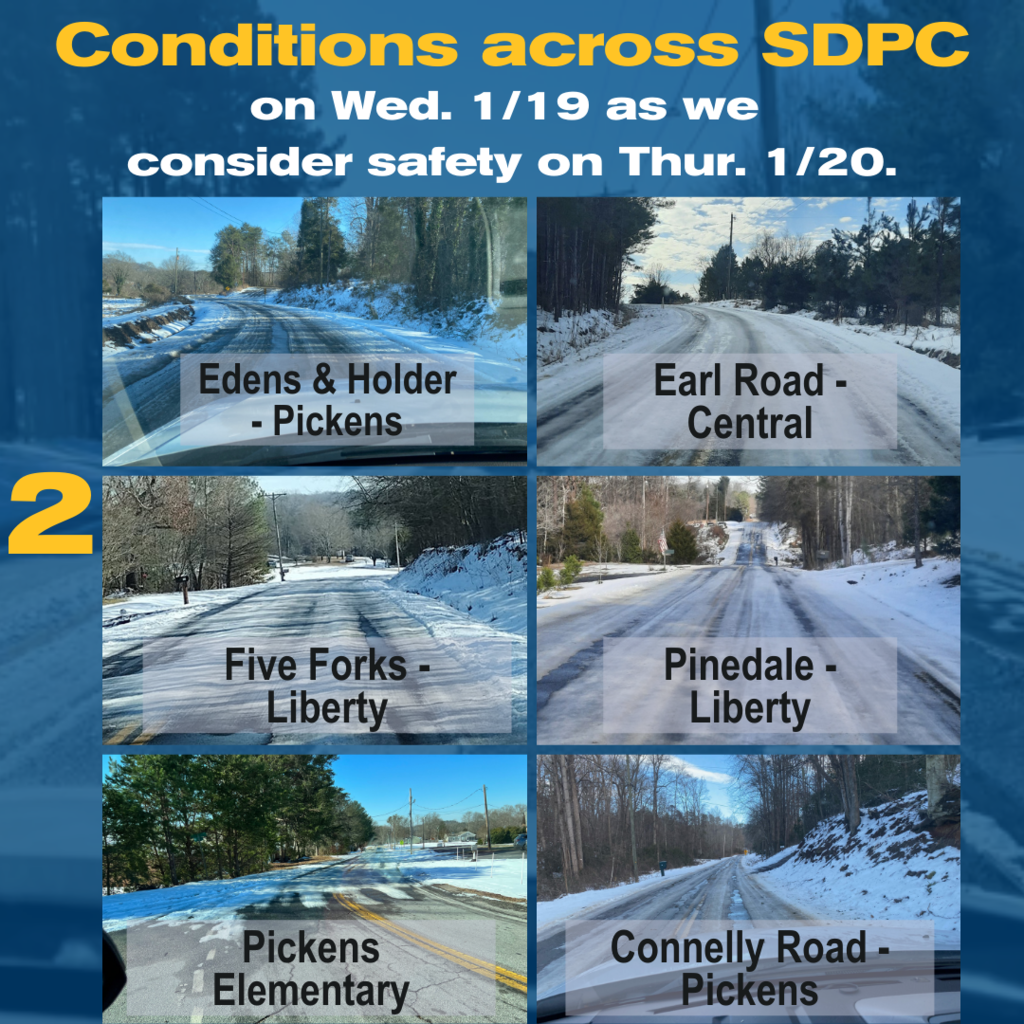 Wednesday, January 19, 2022 will be a Digital Learning Day for the School District of Pickens County due to the continued danger of icy roads. Students will not attend school in-person. While there are areas in our county that have improved, there are many shaded areas that continue to have noticeable ice and black ice on roads. Temperatures are expected to drop again tonight and are not predicted to rise above freezing until after 9:00 am. Even with a delay, transportation would have to occur on the roads prior to this time.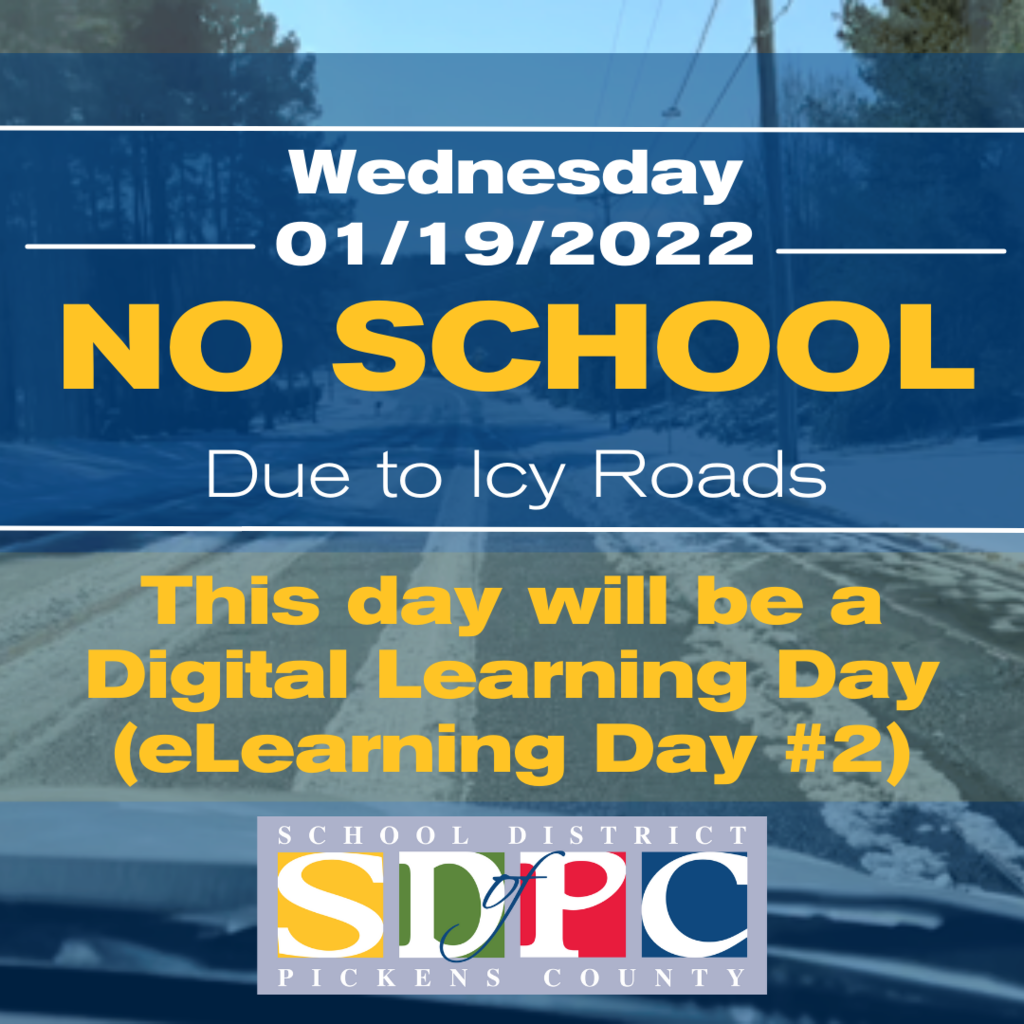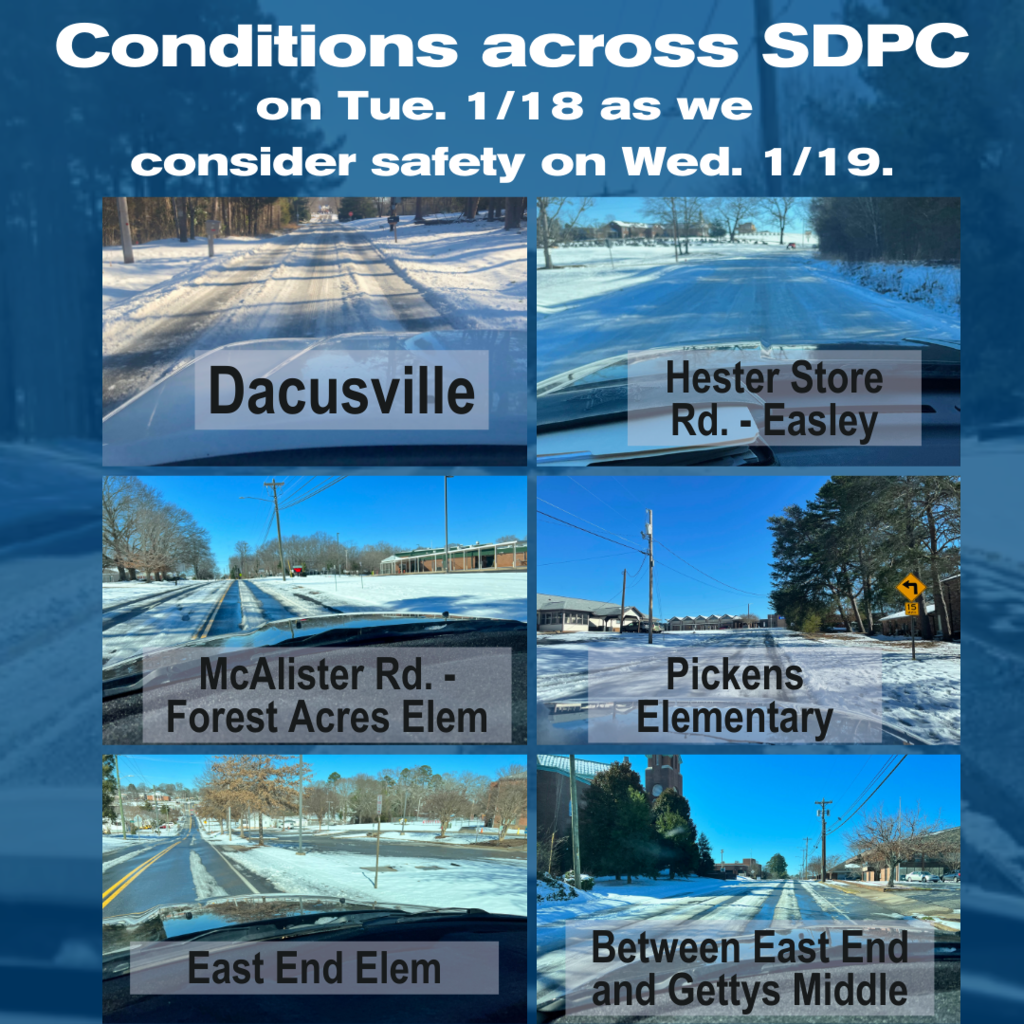 Tuesday, January 18, 2022 will be a Digital Learning Day for the School District of Pickens County due to icy roads. Students will not attend school in-person. Digital Learning Days allow students to make up days missed to inclement weather or other emergencies by completing a set of assignments within 5 school days (Jan. 25). For students in grades K5-12, most or all of these assignments can be completed on the student's school-issued Chromebook. Students in earlier grades may also be given a list of traditional assignments to complete within five days. Your child's teacher will communicate the details of the assignments for your child's class. Students who do not complete their assignments will be counted as absent for the day. Temperatures are expected to drop into the teens tonight following the snow, sleet, freezing rain from yesterday. Noticeable ice and black ice on roads throughout the county is a serious concern tomorrow morning. We will make a decision regarding school for Wednesday (January 19, 2022) on Tuesday evening.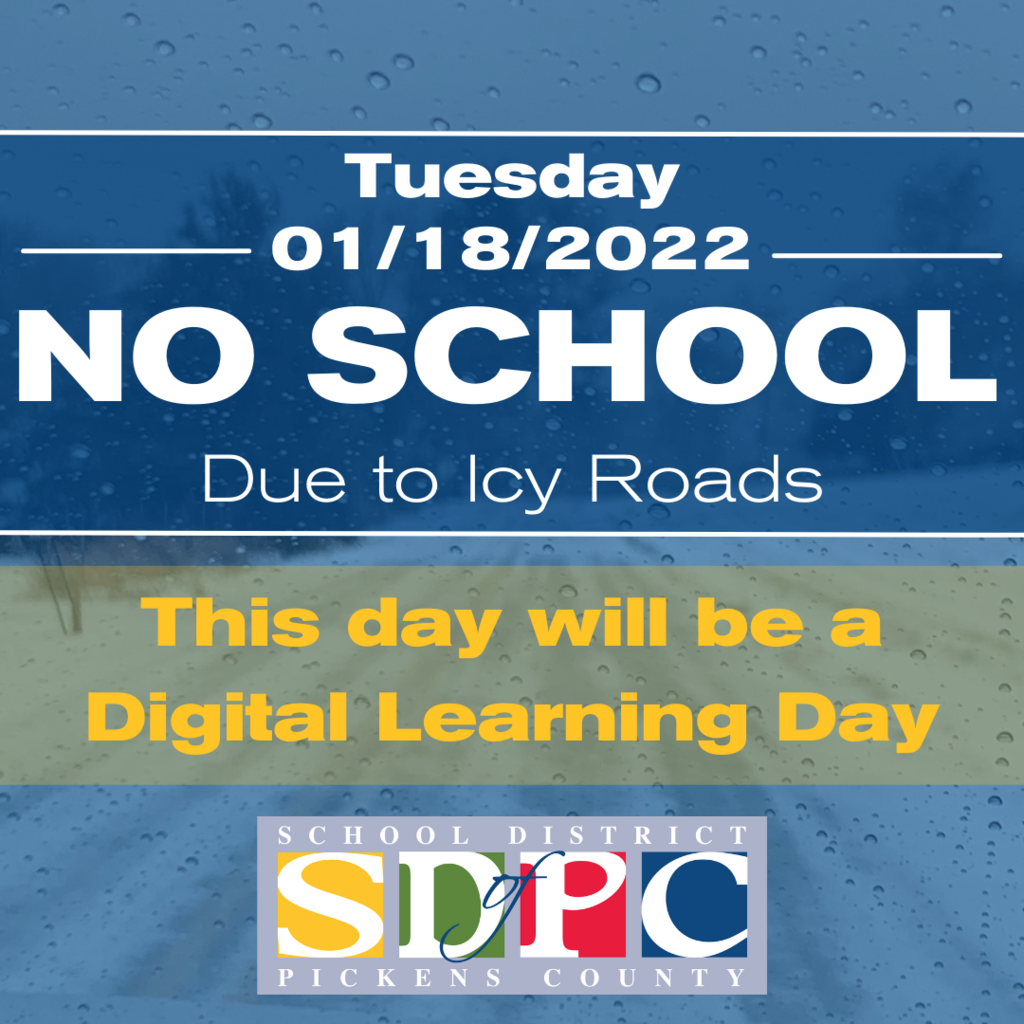 Save the Date for Kindergarten Registration! It's almost time for 3K, 4K, and 5K students to enroll for the 2022-23 school year! SDPC will start registration for the 2022-23 school year beginning in February. Parents can begin the registration process online now by entering their information into the New Student Gateway:
https://www.pickens.k12.sc.us/page/new-student-gateway
Schools will use this registration to contact parents of potential 3K and 4K students to set up screening appointments. More information regarding 3K and 4K programs for the 2022-23 school year will be available in February. For answers to common registration questions, visit our website at:
https://www.pickens.k12.sc.us/page/registration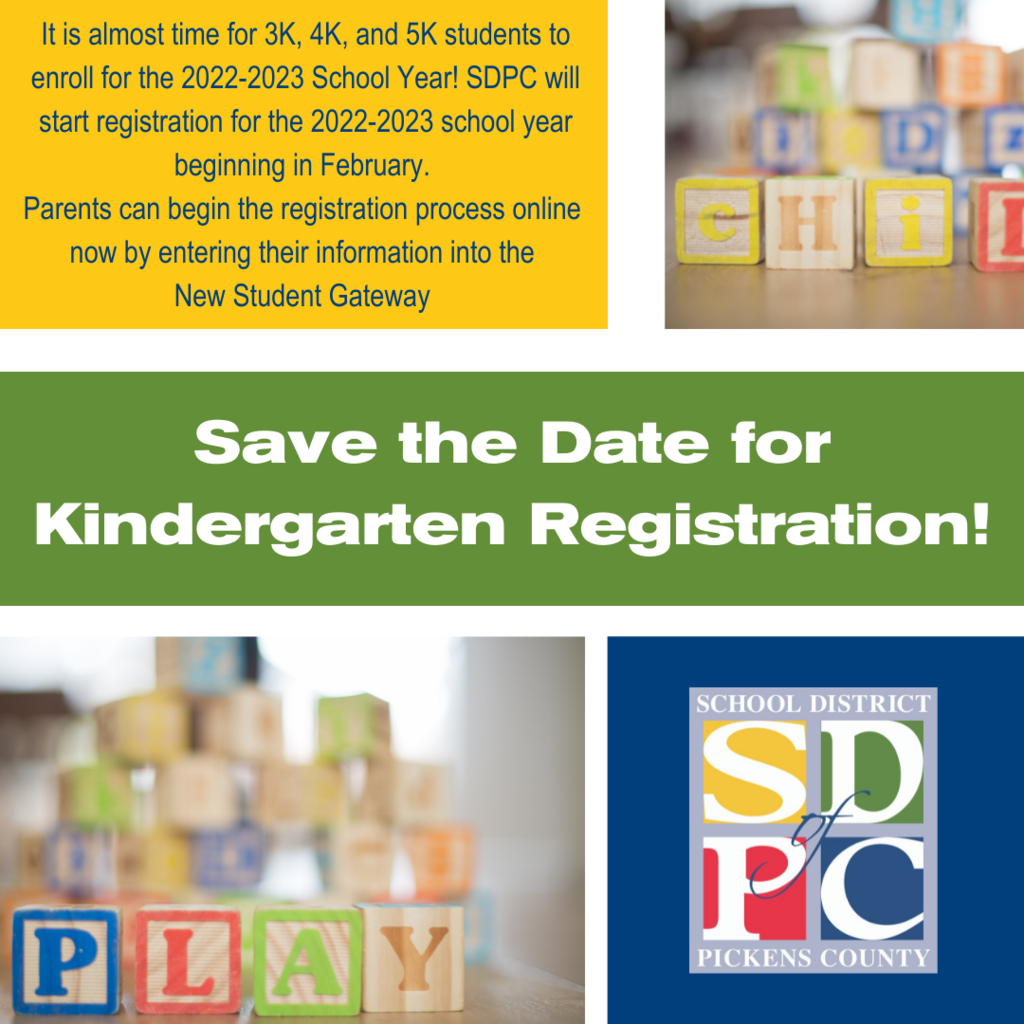 Reminder: As scheduled on the 2021-22 school calendar, there will be no school on Monday, November 1, 2021. Enjoy the long weekend! 🎃 🍁 🍂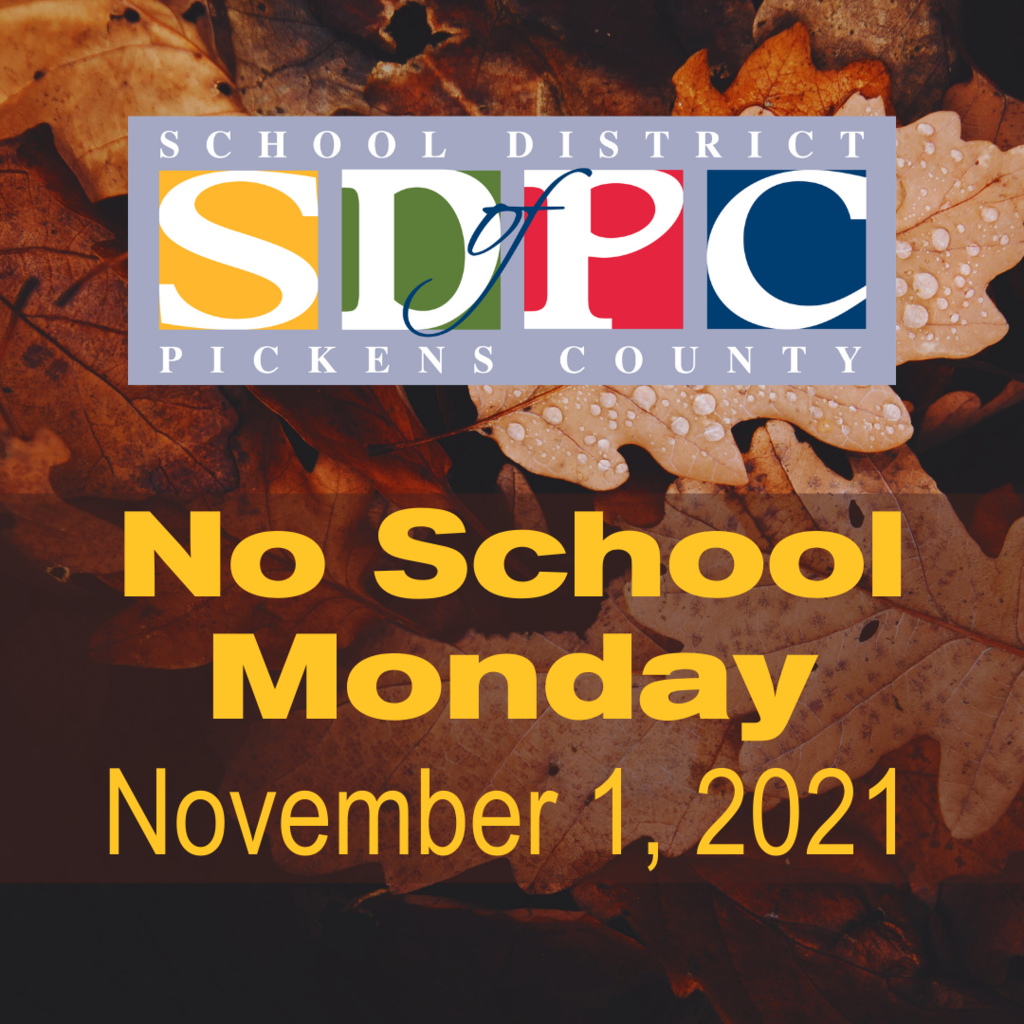 Tonight is our live Zoom meeting for students and parents interested in the early college opportunity through the SC Governor's School for Science and Math in their Accelerate program for Engineering. Our 8th and 9th grade students who are interested are invited to learn more. The application for this program is now open for 9th graders. From GSSM Accelerate - I am excited about the Pickens County Accelerate Zoom info session which is scheduled for Thursday, October 14th @ 7:00pm. My Zoom link is included below that can be shared with interested/eligible students/families. Meghan Terry Zoom link:
https://gssm.zoom.us/j/5217469078
Please let me know if you have any questions. I look forward to "seeing" you and your students/parents on Zoom this Thursday @ 7pm. Kind regards, Meghan Terry Virtual/Outreach Enrollment Counselor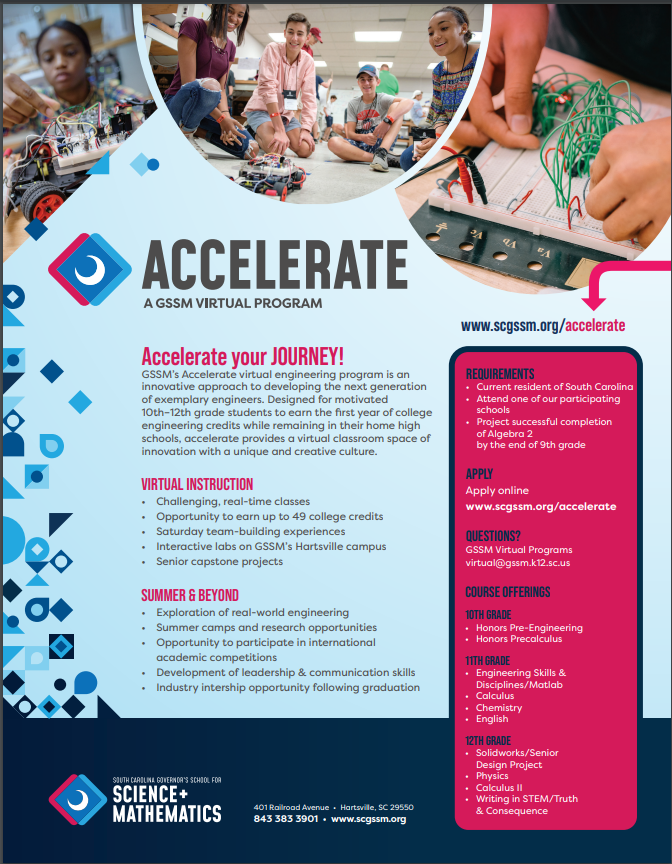 Blue Ridge Pediatric's Mobile Vaccine Clinic will be offering free Pfizer COVID-19 vaccine at Daniel High School Football game this Friday (10/1) from 6pm until halftime. Parents MUST be present with their students in order for their child to be vaccinated. The vaccine is FREE and available to any individual age 12 or older. Pfizer booster vaccines will also be given. The vaccination clinic will be located outside the gates so admission to the game is not required.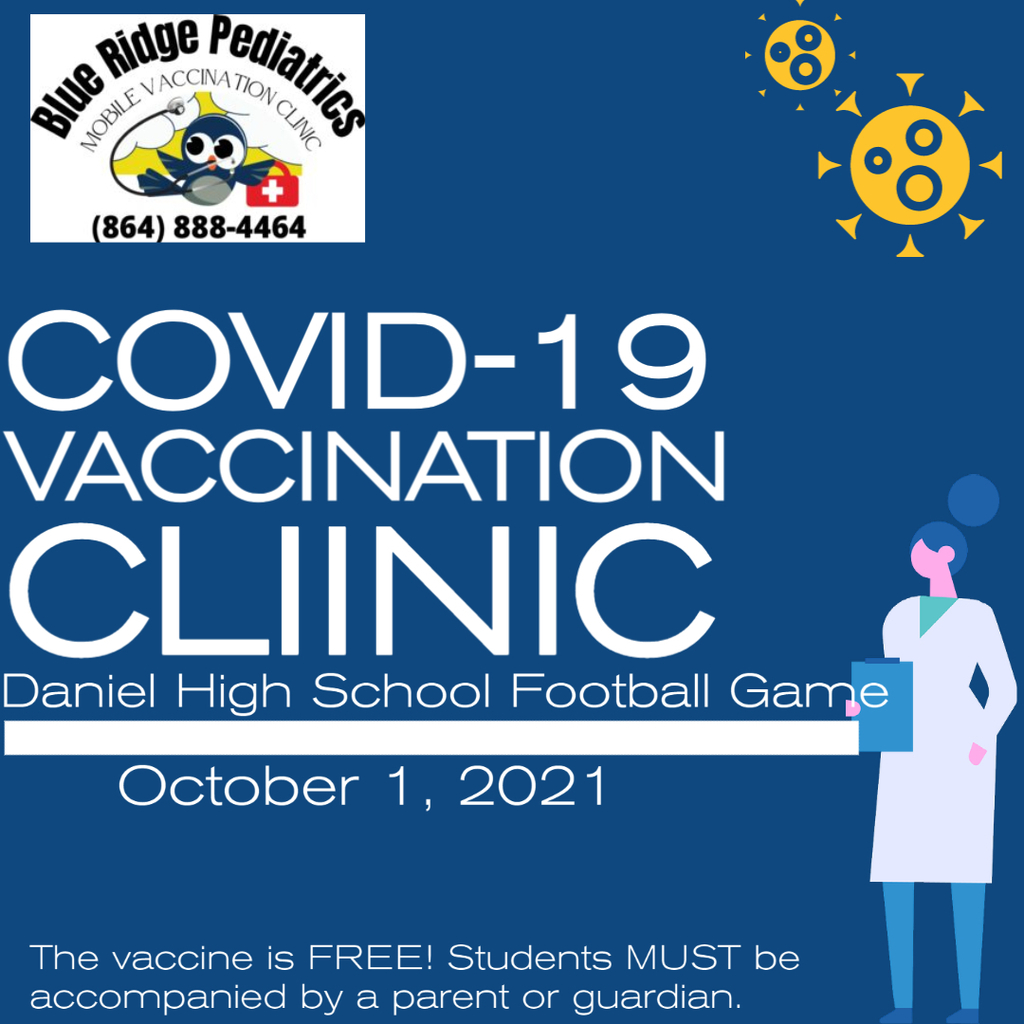 We're so proud of our students' success! Easley High School achieved 90% on time graduation rate for the first time ever! Congrats to Easley High School and all of our high schools for their success during the 2020-2021 school year!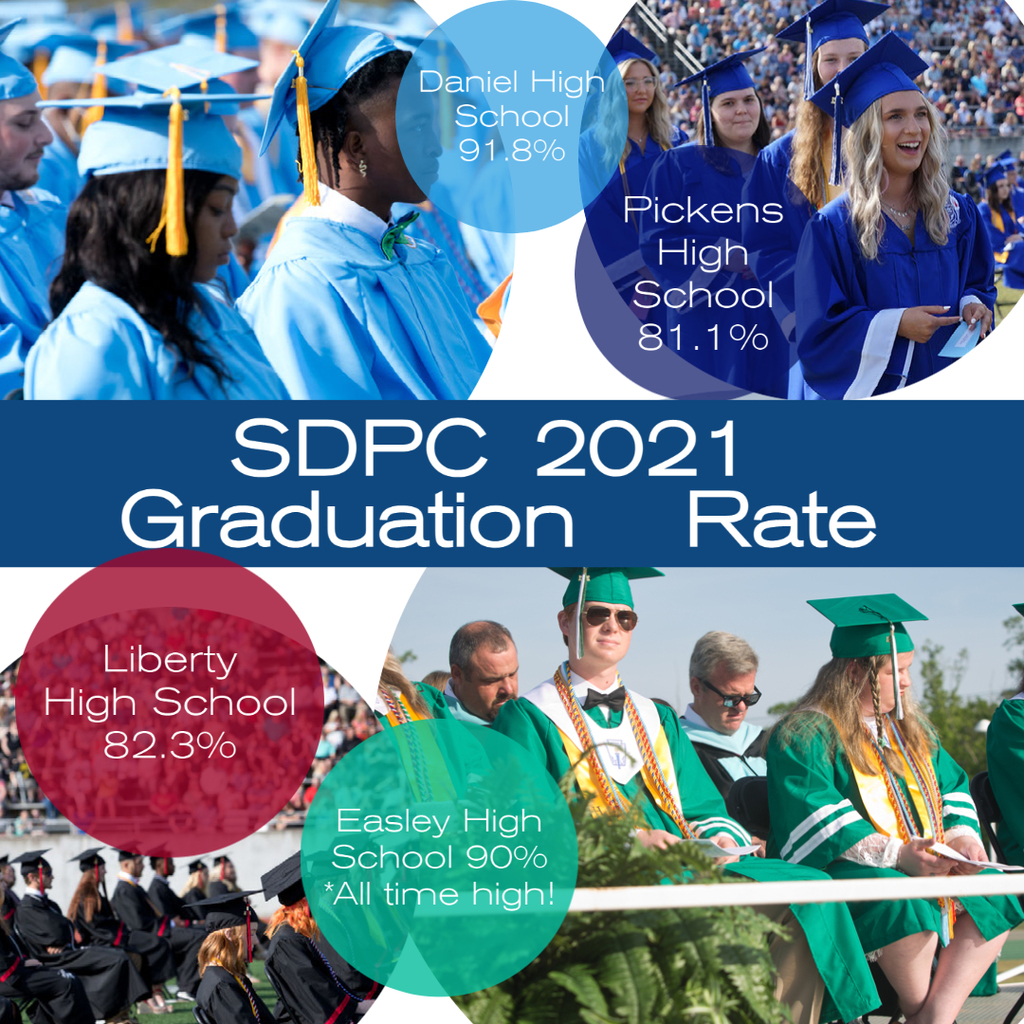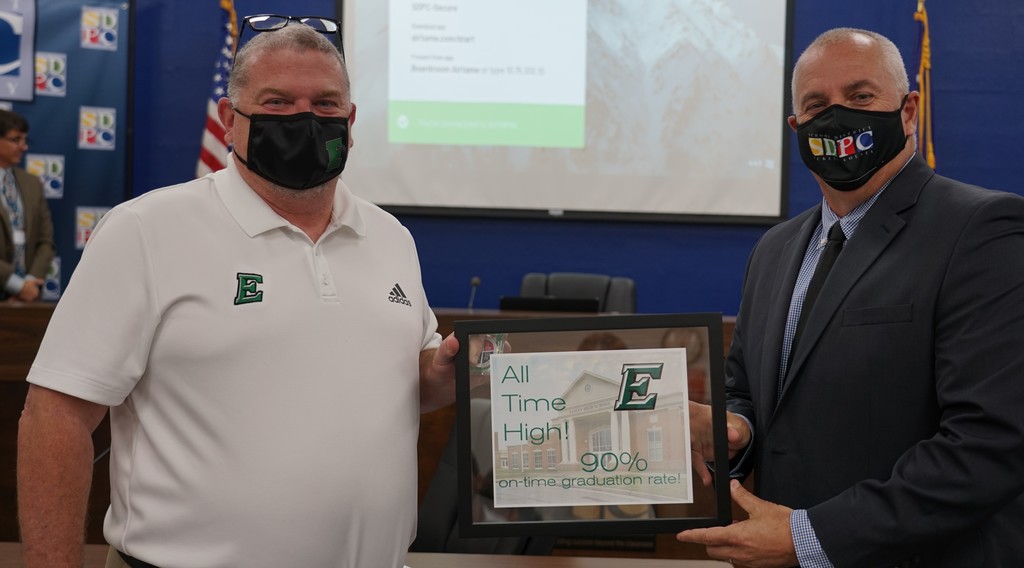 SAT has a website for South Carolina students with information on the College Board Opportunity Scholarship, SAT Practice, and SAT Registration information:
https://pages.collegeboard.org/sat/south-carolina
SDPC can independently register to take the SAT on Saturdays.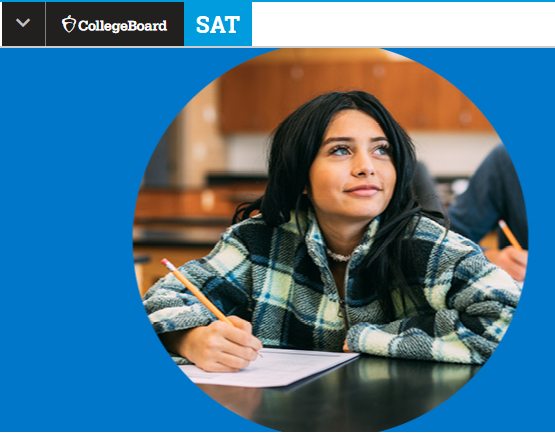 ACT Website for SC Students ACT developed a new website just for SC students customized to provide SC scholarship information along with access to a free test form and other helpful resources. Check it Out:
www.act.org/southcarolina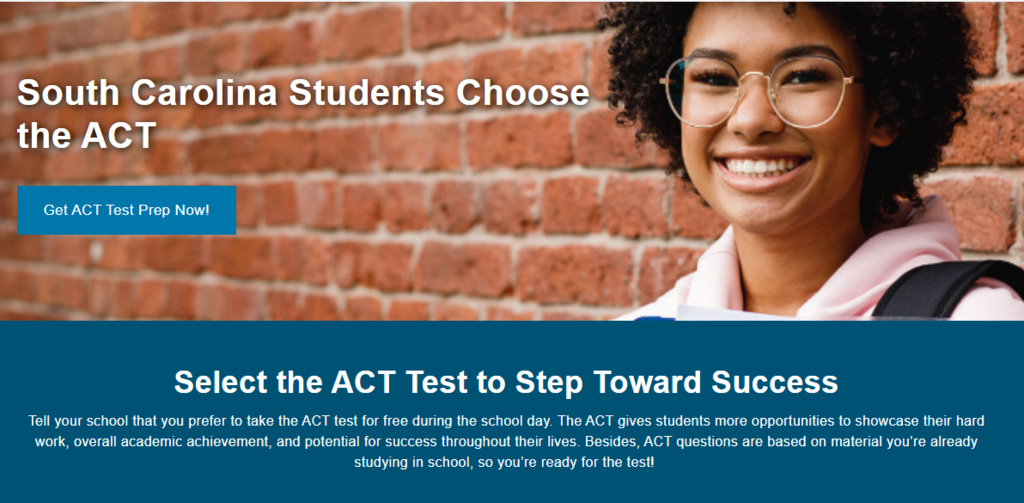 What a great day to be a Clemson Elementary Tiger Cub! We are thrilled to share that Clemson Elementary School has been named a 2021 National Blue Ribbon School by the U.S. Department of Education! Join us in congratulating Clemson on this prestigious honor!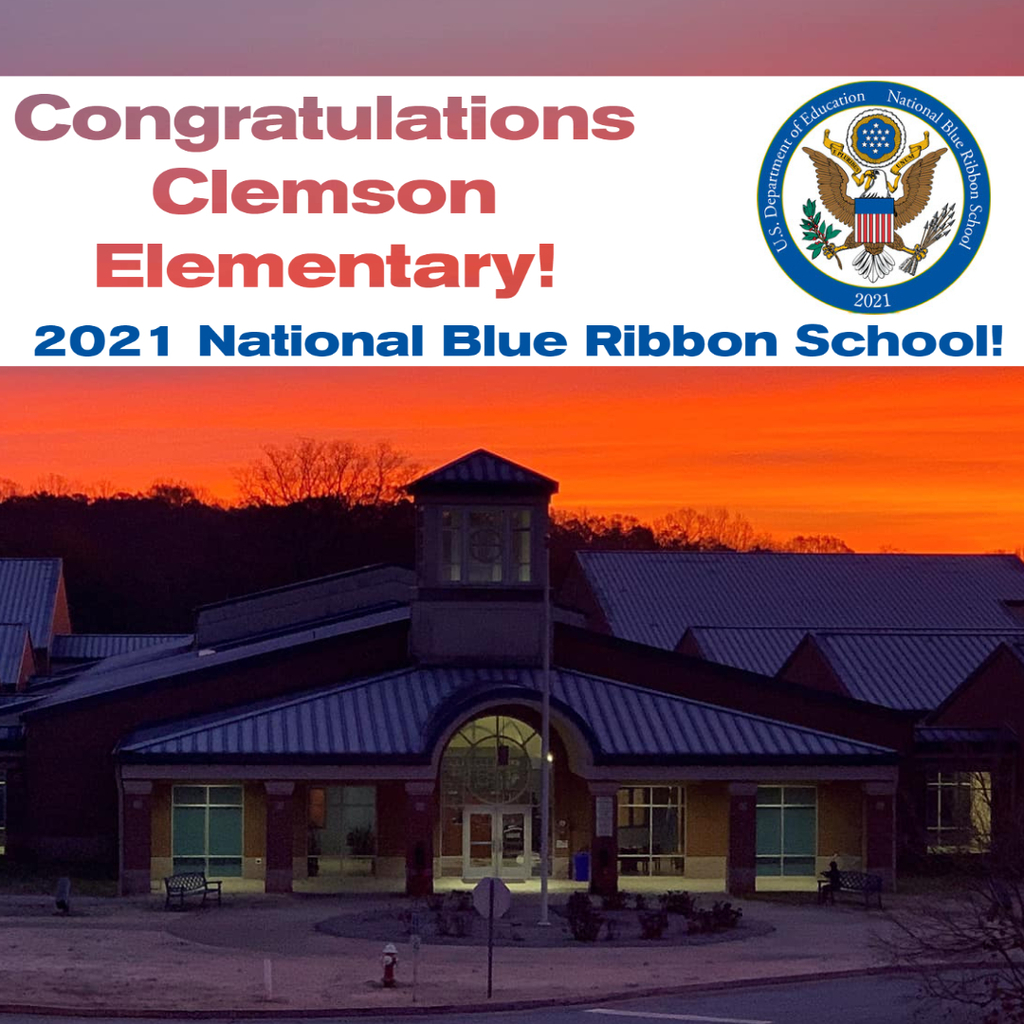 Do you have a student interested in graduating from high school in Pickens County with the first year of engineering coursework from Clemson University completed ... for FREE? Accelerate is a program through the SC Governor's School for Science and Math that is taught synchronously in a virtual classroom while incorporating some face-to-face experiences. Students can stay right here in Pickens County at their home high schools while beginning an early college experience through Accelerate. See this flyer for more information. Also, check out
https://www.scgssm.org/accelerate
. The application for this process opens for qualifying 9th graders on October 1 and closes in February. Apply early. In October, we will share a link to an online Zoom meeting on October 14, 2021, at 7 PM, with Accelerate personnel to provide information and answer your questions. Be looking here and in Schoology for that Zoom link in October. Meanwhile, this flyer provides you a phone number for questions. Your school counselor may also be able to answer some of your initial questions, especially if your student is a 9th grader who still needs Algebra 2.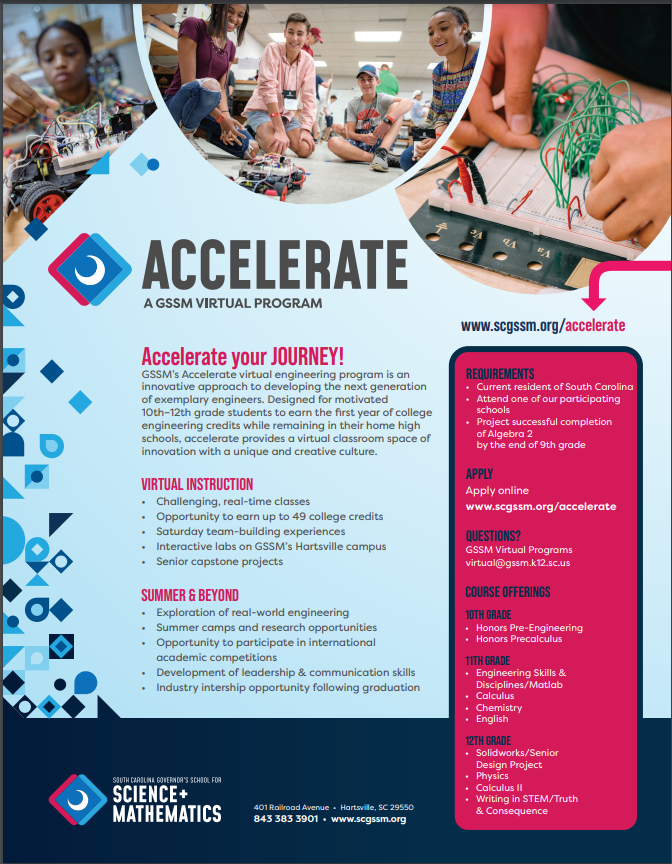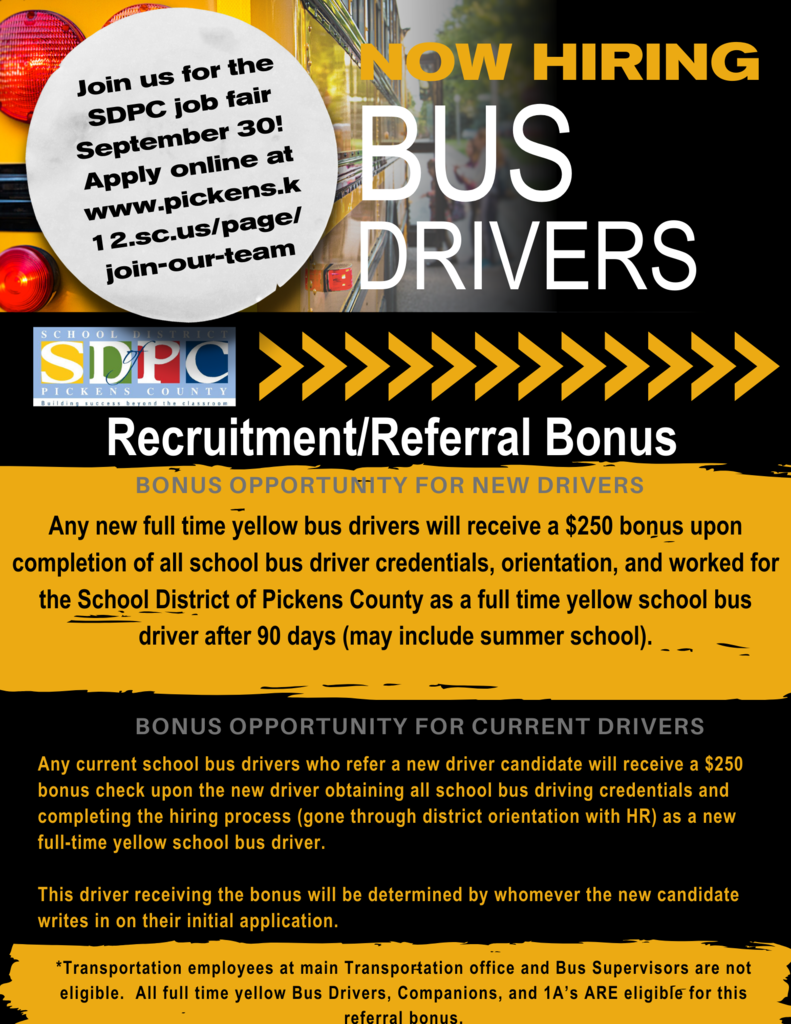 SDPC JOB FAIR Thursday, September 30, 2021 1-7pm Pickens County Career & Technology Center 990 Chastain Road Liberty SC, 29657 Join SDPC for our Job Fair on September 30. We will be interviewing candidates on site for positions including Teachers, Custodial Staff, Food Service Staff, and Grounds Crew. Those interested should apply online at
www.pickens.k12.sc.us/page/join-our-team
(If unable to apply prior to job fair, Chromebooks will be available to complete the application on site).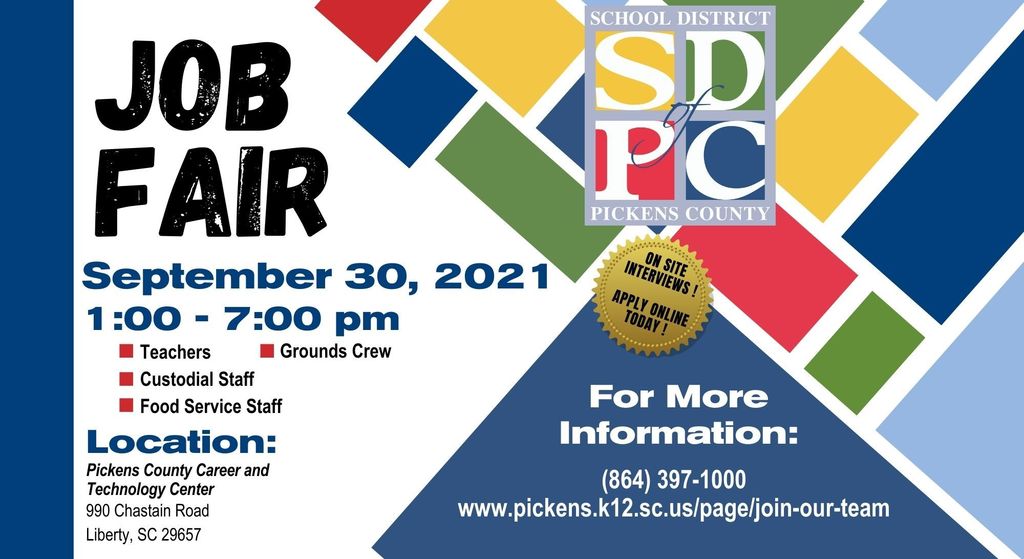 October is officially recognized as College Application Month across South Carolina and other states. Our SDPC schools have arranged opportunities for seniors and parents to take advantage of the support and help available. See your school counselor for more information. SC Can Go has developed resources on its website to support seniors and their families too. See here for more on how to apply for specific colleges and universities in SC and participate in sponsored application nights across September, October, and November that will take virtually.
http://sccango.org/college-application-month/