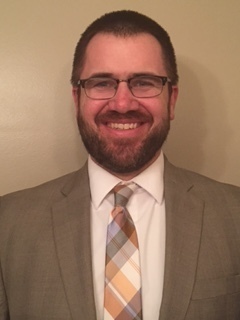 On Friday, June 3, 2022, the School District of Pickens County Board of Trustees named Dr. Seth Young as the next Assistant Superintendent for Human Resource Services. Following the upcoming retirement of Dr. Stephanie Lackey, at the end of the 2021-22 school year, Dr. Young will assume the role.
"Dr. Young brings a wealth of experience to the School District of Pickens County (SDPC), experiencing great success as a teacher and school administrator", said Superintendent Dr. Danny Merck. "Throughout his time in administration, his work has made a measurable impact in attracting great employees and then providing them the necessary support and training to be successful. We look forward to his leadership in continuing our efforts to attract world-class educators and support staff to SDPC."
Dr. Young is currently the principal of Wren High School, where he has served since 2017. Prior to this, Young served in an administrative role at Wren High as the Director of the Freshman Academy (2012-2017) and Assistant Principal (2010-2012). Young was also an assistant principal at Wren Middle School from 2009 to 2010. Before becoming an assistant principal, Young was a math teacher at both Wren High School and Tanglewood Middle School. He holds a B.S. in Mathematics Teaching, a Master of Education in Administration and Supervision, and earned a Ph.D. in Education Leadership, all from Clemson University.
"I am so excited and honored to have the opportunity to serve as the Assistant Superintendent for Human Resource Services in Pickens County," said Dr. Young. "I am grateful for the opportunity to learn from and work with the district's leadership team under the leadership of an excellent Superintendent like Dr. Merck. I look forward to helping contribute to the success of the School District of Pickens County."
Under Dr. Young's leadership, Wren High School has maintained a graduation rate of over 90% including 94.8% in 2021. Even during the COVID-19 pandemic, teachers, students, and parents consistently reported that Wren High School had a positive culture and learning environment despite the obstacles everyone faced over the last two years. In addition, while Dr. Young was the principal, students at Wren High School increased their passage rate on AP exams and EOC exams while Wren High School has consistently been rated Excellent on the South Carolina School Report Card.
"I want to thank the Wren community and Anderson School District One for their support over the last 18 years," said Dr. Young. "I have had so many wonderful experiences during my time at Wren that have helped prepare me to take this next step in my career."
In addition to his duties as an administrator, Dr. Young is also an Adjunct Professor at Clemson University in the Administration and Supervision Master's Degree program. He is also an annual presenter for the South Carolina Association of School Administrators (SCASA) for Aspiring Principals and has worked with administrators from across the state. Dr. Young has served as the South Carolina High School League Class AAA Vice President/President-Elect and has served as a member of the SCASA Secondary Principals' Affiliate. He will be presenting at the SCASA i3 Conference in June 2022.
Dr. Young, his wife Ashley, and their two children (Grant and Lydia) live in Easley.