COVID-19 Info / Reopening Plan
Covid-19 Case Report - As part of our commitment to transparency, we will post daily reports about the number of students and staff who have tested positive for COVID-19 or who are in quarantine due to close contact with the virus.
COVID Communications / Updates
Three Week Windows/Schedules
We learned in the first 9 days that we are dealing with a very different challenge than last year. The spread of the COVID-19 Delta variant has quickly engaged our community. Our safety practices last year, which included the use of masks and the use of 6 week windows or schedules, led to being in school more than most of the schools in the Upstate of South Carolina. As a result of the current health challenges in our communities, SDPC plans to monitor conditions closely and update our protocols every 3 weeks as we continue the 2021-22 school year.
To protect our students and to make sure we have a healthy workforce, these 3 week windows/schedules will be updated every three weeks as we continue to monitor community outbreaks of the virus. Knowing that we must have key personnel to operate school (including nurses, teachers, bus drivers, cafeteria workers, and School Resource Officers), it is vital for families to keep in mind that within any 3 week window, a school or grade level may revert to temporary virtual online learning if the well-being of students or employees is compromised.
This is our best attempt in scheduling a few weeks in advance as what is the reality today may not be the same in September. We will attempt to provide as much in-person instruction as possible during each 3 week window/schedule, however, the status of COVID-19 in our community may result in more temporary virtual learning.
Here is the 3 week window for weeks 10, 11, and 12 (click for printable copy):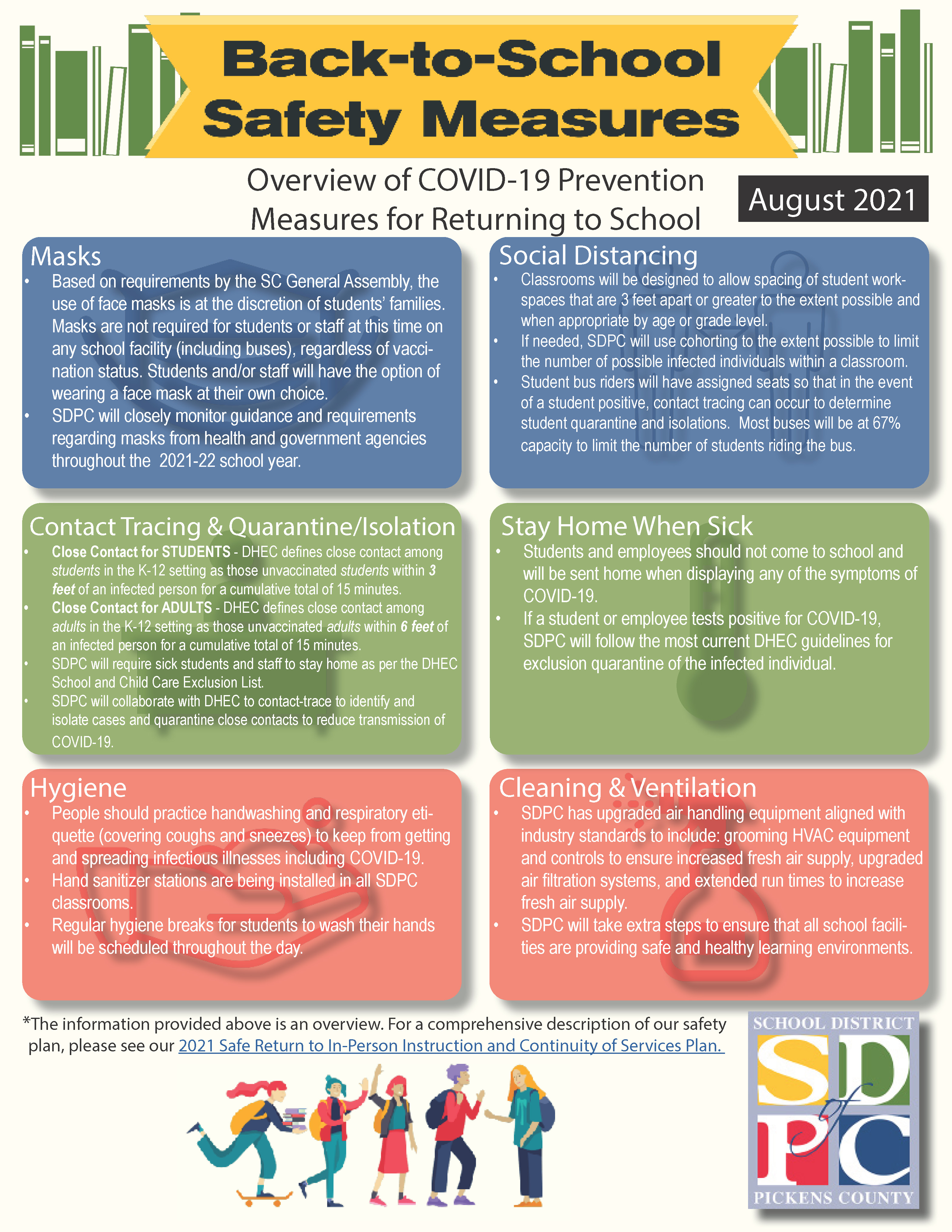 The School District of Pickens County continues to take COVID-19 very seriously. Since the onset of COVID-19, we have taken steps and precautions to keep our school environments as safe as possible.
We continue to take precautionary steps to keep our schools as safe and healthy as possible. All SDPC sites continue to follow cleaning and disinfecting protocols according to SC Department of Health and Environmental Control (DHEC) and Occupational Safety and Health Administration (OSHA) guidelines.
Whenever symptoms of COVID-19 appear at school, teachers will send students to the health room to be examined by the school nurse. If the school nurse believes the symptoms indicate the probability of COVID-19, parents will be notified immediately and asked to pick up the student from school. Parents should update health records, emergency phone numbers and provide the school nurse with the latest health information on students.
School nurses and a district administrator will communicate directly with the SC Department of Health and Environmental Control (DHEC) to determine the next steps in each situation when COVID-19 symptoms are present in students or teachers. The DHEC exclusion and notification guidance will be followed, along with the DHEC re-entry guidance when a child is ready to re-enter school after being excluded for a case or symptoms of COVID-19. School nurses will comply with HIPAA regulations in the handling of COVID-19 cases.
In 2020-21, our district developed a Daily Briefing Team (DBT) that met each afternoon to review all COVID-19 activity and information daily. This provided data to make informed decisions to adjust practices. The DBT will continue to monitor COVID activity and make system-wide decisions as needed in 2021-22.
Our district feels confident with these guidelines and policies in place to ensure our students and faculties have access to a safe learning environment.
On March 11, 2021, the American Rescue Plans (ARP) Act was signed into law. This legislation will award grants to state educational agencies (SEAs) for providing local educational agencies (LEAs) with emergency relief funds to address the impact that COVID-19 has had, and continues to have, on elementary and secondary schools across the nation. As detailed below, SDPC returned for in-person instruction in August 2020, therefore meeting requirements of the American Rescue Plan Act of 2021 in section 2001(i)(3).
The Reopening details on this page describe how the district provided the safe return to in-person instruction and continuity of services for all schools for those that returned to in-person instruction in August 2020. This page will also detail future adjustments to this plan.
More Information
This framework for reopening SDPC schools was released in July 2020 following a development process involving stakeholder input. This plan allowed SDPC to offer more than 80% of in-person instruction for students in the 2020-2021 school year. The district provided a choice to allow students to attend school in person or to participate in the online SDPC Virtual Academy.

2020-21 Summary

As shared in the 2020-21 Reopening Plan, SDPC released six-week schedules that contained both face-to-face and remote learning . The following schedules and summary provide more details.

Instructional Schedules for 2020-21