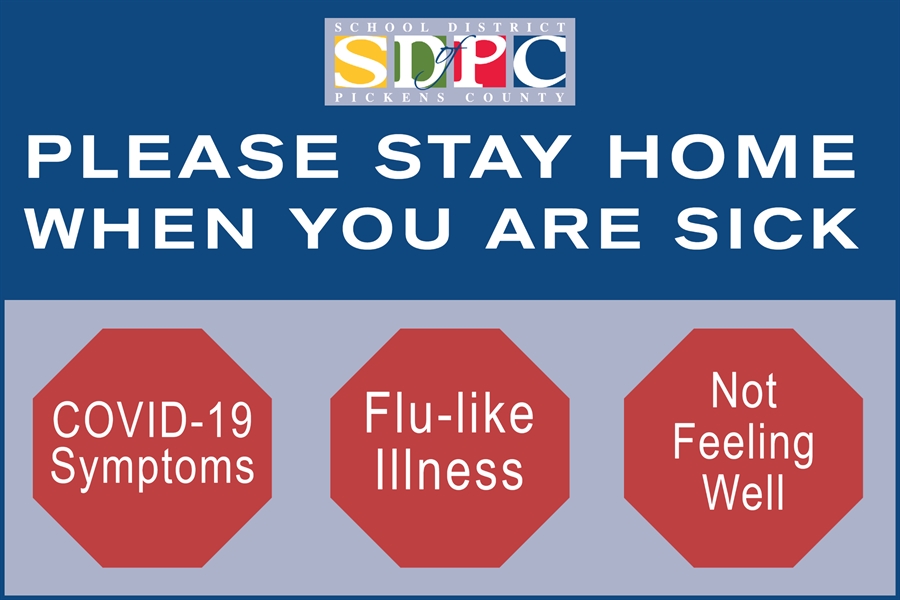 COVID-19 Cases & Quarantines
A data team reviews cases and quarantines daily. As part of our commitment to transparency, we will post weekly updates about the number of students and staff who have tested positive for COVID-19 or who are in quarantine due to close contact with the virus. A summary is updated and provided weekly in a Weekly COVID-19 Case Report.
Please Stay Home When You Are Sick
We are approaching the time of year when individuals normally experience flu, colds, and other seasonal illnesses. All of these along with the added concern for COVID-19 will be a challenge for our schools.
As we continue to protect the safety and well-being of everyone in our schools, staff and students should not come to school if they are not feeling well. Please STAY HOME when you are sick.
Staff members and students with one of these three symptoms for COVID-19 should STAY HOME. Contact the school nurse or a physician.
New or worsening cough

Loss of taste OR loss of smell

Shortness of breath or difficulty breathing
Staff members and students with flu-like symptoms should STAY HOME. Contact the school nurse or a physician.
Temperature of 100˚ or greater with a cough and/or sore throat
Staff members and students should STAY HOME if they have a fever (temperature 100˚ or greater) in the past 24 hours.
Other symptoms are also related to COVID-19 and flu. If a staff or student is generally not feeling well with these symptoms, consider staying at home. Contact the school nurse or a physician to evaluate if these symptoms are due to COVID-19 or flu.
Sore throat

Fatigue

Body aches

Nausea

Vomiting

Diarrhea

Headache

Runny nose or congestion
Please contact your school nurse with any questions or concerns.
Student COVID-19 Absences from School
Schools are required to follow the DHEC School Exclusion List for exclusion from school due to illness. The school nurse will assess the student to determine the exclusion time and requirements for returning to school. Situations can vary and be unique. School nurses will provide specific directions to parents and students based on the most current COVID-19 Isolation and Quarantine Guidelines.
If a student is excluded by the school nurse for illness, those absences will be excused medically and will not count towards a student's 10 allowed absences (parent and/or medical note). Once a student has reached 10 absences for a reason other than a COVID-19 related school exclusion, a medical excuse is required.
School Work/Homebound for COVID-19
According to SDPC Board Policy IBHF, "Students who cannot attend school because of illness, accident, or pregnancy, even with the aid of transportation, are eligible for medical homebound instruction or hospitalized instruction. A physician must certify that the student is unable to attend school but able to profit from instruction."
Students who miss five or more consecutive days of school may apply for medical homebound instruction, including students who miss school due to the impact of COVID-19. This includes students quarantined because of close-contact exclusion. Homebound applications are available from guidance counselors.
Students need to have a doctor, nurse practitioner, or physician's assistant complete a homebound application for homebound approval consideration. Applications should be dated by the medical provider and submitted to a guidance counselor within 10 school days of the onset of the diagnosis. Applications received after that date may be denied.
If approved, teachers are assigned to meet with students via Webex to assist students with their assignments missed during the approved homebound period. The homebound teacher and parent will agree on a schedule.
If students miss less than 5 days, homebound is not needed. Students should contact their teachers for missed assignments.
Homebound does not apply to Pickens County Virtual Academy students. These students are already attending classes virtually.